Are you a beginner or a small business looking for reasonably good hosting at an affordable price? This FastHosts hosting review will help you decide whether FastHosts is an option worthy of your consideration or not.
But before that, what exactly are you looking for in a web hosting service? Quality features? Or is it just cheap pricing?
Well, no matter what you are looking for, FastHosts hosting has got you covered. They offer stellar uptime and site performance along with other essential tools you need to take your business online. For example, they have some hosting plans that cost as little as £1.99 a month!
Is FastHosts any better? Take a look at all the details you should consider before signing up with the web host.
FASTHOSTS HOSTING OVERVIEW
FastHosts is the brand name of FastHosts Internet Limited, a company that was founded in the United Kingdom back in 1999. The main goal of the company was to offer individuals and businesses the hosting solutions they need to build, manage, and control their online availability – and they have lived up to that dream.
Currently, FastHosts is one of the best web hosting providers in the world and especially in the UK where the company has a large customer base. You will agree that powering 1.4 million+ domains and 411,000+ email accounts is not a walk in the park, right? That's FastHosts for you.
So, why should you choose FastHosts hosting over other web hosts? First off, FastHosts has been praised for its easy-to-use, intuitive cPanel. Then, all plans come with security features like SSL, security patches, and regular software updates.
Let's explore other details below.
GENERAL INFORMATION
SPEED:
1.2 s (January 2020 to June 2020 average)
UPTIME:
99.90% (January 2020 to June 2020 average)
SUPPORT:
live chat, 24/7 phone line
APPS:
WordPress, Drupal, Joomla, phpBB, MediaWiki, Bulbapedia, WikiLeaks, PrestaShop, Magento, Photo galleries, SugarCRM, among others.
FEATURES:
Unlimited bandwidth
Website builder
SSD storage
Databases
SEO tools
Free domain for the first year
Money-back guarantee
Mailboxes
Round-clock tech support
SSL certificates and other security tools
One-click app installs
PLANS:
Shared web hosting
WordPress hosting
Reseller packages
Cloud servers
SITE TRANSFER:
Free domain transfers into and out of FastHosts
PRICING:
The most basic hosting plan from FastHosts costs £2.50 per month
THE PROS AND CONS OF FASTHOSTS HOSTING
1. Reliable uptime guarantee
Why should uptime matter, anyway? Well, the uptime score of your site is basically how long your site will remain up and running within a set period of time. What this means is that if your hosting provider guarantees high uptime, then your site will be live throughout the year, or with a few hours of downtime in the least.
FastHosts gives an uptime guarantee of 99.9%, which is not badly off. But, how does it achieve that?
To begin with, the company has high-grade servers and data centers in place. Secondly, the company is just a small hosting provider with a smaller clientele when compared to the top leaders in the web hosting industry.
That means their promise to deliver the best uptime may be a reality for its customers.
2. Cheap pricing
FastHosts provides very cheap hosting packages with its most basic plan –Ignite plan- priced at £2.50 per month.
This plan comes with plenty of useful features including 10GB storage space, unmetered bandwidth, two databases, and SEO tools.
Also, the web host accepts both credit card and PayPal payments.
3. Beginner-friendly user interface
Signing up for a FastHosts account is pretty easy. You will be required to key in your full name and email address (also your username), and a passcode.
After account verification via email, you will then be redirected to the platform's classic dashboard. We should say that the dashboard you will find is a far cry from a conventional cPanel.
Everything at FastHosts is pretty straightforward.
4. Easy app installations
While most hosting services have quick app installs for WordPress and other apps, FastHosts goes the extra mile to install one automatically for users who opt for WordPress hosting.
If you are a total beginner, such features will come in handy to make your journey easier.
5. Quick customer support
If you encounter a problem with FastHosts hosting, you can reach out to the company's expert tech support, easily and quickly.
The telephone support line is available 24/7/365 and the live chat feature is usually active between 9 a.m to 8 p.m during weekdays. If you choose the ticket support approach, it's still helpful.
From other online reviews, most users who tried those three methods found FastHosts' s customer support responsive, helpful, and informed.
6. Security and site backups
FastHosts know very well that domain security and customer privacy are not to be taken for granted. The company is laser-focused on the two aspects that you may think that they are a Fort Knox in the making.
FastHosts is ISO 27001 certified, which means that it is recognized for its top-grade security, privacy, and redundancy.
Also, the hosting service utilizes a server pooling framework to help guard users against DDoS attacks. From your end, it is also vitally important to manually perform site backups. Better yet, you can make use of an auto-backup plugin.
7. Money-back guarantee
To cater to the unavailability of auto-backups and other things that can cause customer dissatisfaction, FastHosts offers a user the option to cancel an account and seek a refund.
If you happen to change your mind within the first 30 days, you can simply opt-out of the service and still get a refund of your money.
The Cons Of Using FastHosts Hosting
The most basic plan doesn't provide an SSL certificate.
HOSTING PLANS

WORDPRESS HOSTING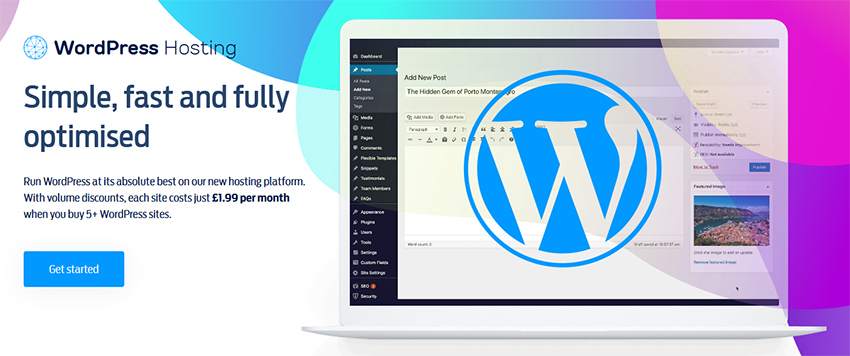 RESELLER HOSTING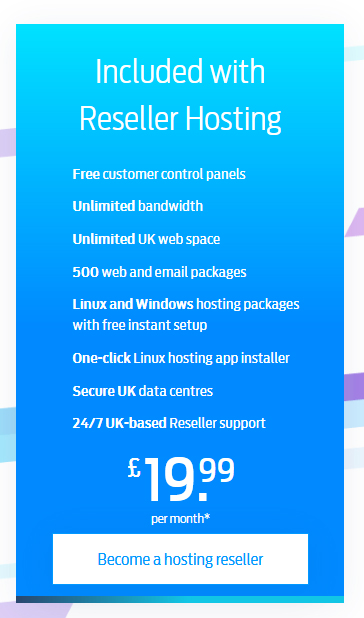 CLOUD SERVERS
FINAL VERDICT
FastHosts is an above-average hosting provider that can give you the most value for a few bucks.  They offer a distinct range of hosting services, differentiating them from some other regular hosts.
However, the lack of a money-back guarantee can be a bit daunting, but on the other hand, Microsoft Award goes a long way in building confidence in the services FastHosts provides.
The location of the data center will appeal to customers who want to be sure that their site is hosted in the UK.  Only a handful of other hosting companies can compete with the wide range of services of FastHosts.
We recommend FastHosts for all your hosting needs.