If you are planning to create a website, – maybe for your business or for sharing ideas – this iPower hosting review is for you.
But, is it even possible to choose the right web host for your website when every company out there is claiming to offer the best services? You will agree that it can be a tough undertaking, right?
As far as we are concerned, every company has something unique to offer. You see, what may be "best" for you might be bad for someone else. So, what aspects should you look at when choosing a hosting provider? Is it price or functionality?
Is it bandwidth limits and storage space? Well, if such decisions place you between a rock and a hard place, then you may need to take a closer look at what iPower has to offer. The company is pretty straightforward, affordable, and eco-friendly.
IPOWER HOSTING OVERVIEW
iPower was founded by Gorny Tomas back in 2001. As we speak, the company is now the power that runs 1 million+ domains for individuals and businesses from across the globe.
There is no doubt that you may have come across lots of mixed reviews about iPower, some that left you more confused. One thing you should know is that when it comes to web hosting, no company can be said to be perfect.
That said, we have a lot of good things to say about iPower hosting. For example, the company fully relies on green energy to run all its activities. Additionally, the company is well-known for its cheap feature-rich hosting solutions.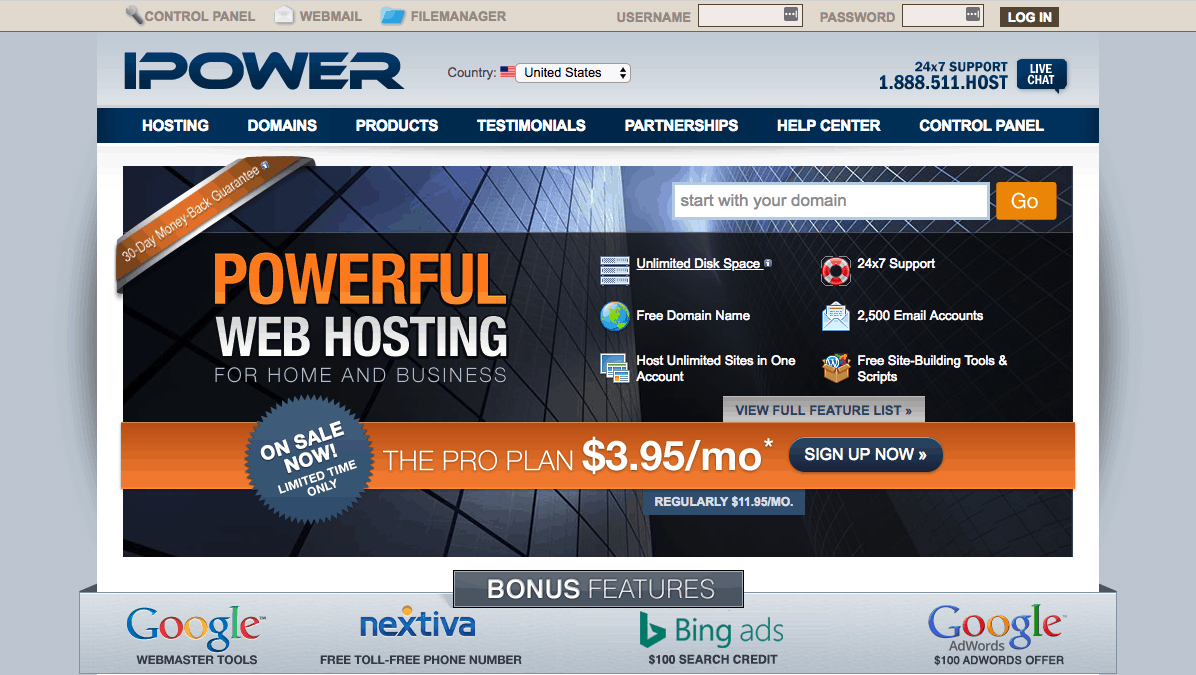 If you sign up with a company and realize that it is not your cup of tea, then its 30-day money-back guarantee will allow you to cancel your account and seek a refund. That's just the tip of the iceberg. We are going to explore other facts and details you should be aware of before choosing to host with them. Read on.
GENERAL INFORMATION
SPEED:
948 ms (July 2020 to November 2020 average)
UPTIME:
99.99% (July 2020 to November 2020 average)
SUPPORT:
Postal mail, telephone line, 24/7 live chats, and online forms submissions
APPS:
Drupal, WordPress, Magento, CMSs, and eCommerce apps.
FEATURES:
Bandwidth limits
CM4all website builder
Custom domain names
Lots of storage space
Anti-spam and other email features
cPanel
MySQL databases
Web stats
FTP and other hosting utilities
Power plugins
Marketing and promotions
SSL certificates
Email accounts
E-commerce features
Tech support
Money-back guarantee
PLANS:
Shared hosting
WordPress hosting
VPS hosting
Dedicated server hosting
SITE TRANSFER:
Free website transfers
PRICING:
The most basic hosting plan from iPower starts at $3.99 per month
Now, what are some of the pluses and minuses of iPower hosting?
THE PROS AND CONS OF IPOWER HOSTING
1. Cheap pricing
We can authoritatively say that iPower is one of the best low-budget hosting providers under the sun. Yes, the company may not be the best web host but then, its cheap rates for feature-filled plans make it stand out from the rest.
If you are just starting out and have budget constraints, iPower could be a smart option for you.
2. Easy cPanel
When it comes to cPanel and user dashboard, iPower does things differently. On visiting their website, you will be greeted with a very classic, intuitive navigation panel. Everything is clearly labeled to help guide those who are not familiar with the site.
It is true to say that iPower's whole system was developed with beginners in mind.
3. Reliable uptime and fast loading times
According to their website, iPower offers a superb uptime guarantee of 100%. Other users have reported 99.99%, but it's still fine.
When it comes to site loading speed, iPower's one of the best. Most websites hosted on iPower take an average of 948 ms to display results. All in all, that is not a bad score.
4. Above-average security
Each of iPower's hosting plans comes with a MySQL database. This, coupled with regular site backups offers all users the extra security and protection that they need for their website's content.
Yet another key benefit of iPower hosting is the free SSL certificates. You also know that not many site visitors will stick around a site without HTTPS protocol, right? iPower's SSL certificates complement the efforts by search engines to flag down insecure sites.
5. Excellent customer support
One characteristic of a reliable web hosting service is responsive, helpful customer support. With signing up with iPower, you can rest assured you will get tech support anytime you need it. That is made possible courtesy of their 24/7 live chat feature.
If you don't want to engage the customer support through the live chat, you can still scour their knowledge base for answers. Or you call them via their phone line.
6. Free site transfers
Yes, you don't have to pay even a single buck to move your site to iPower.
7. Great value for money
Considering all the good things that iPower offers, we feel that it is truly a good option for everyone. Besides offering cheap hosting plans at very cheap rates, they also offer other useful features that can make your website more appealing and functional.
The Cons Of Using iPower Hosting
The most basic plan comes with only one email.  In addition, iPower does not include free SSL certificates in any of their packages.  Users must purchase SSL certificates separately.
HOSTING PLANS
SHARED HOSTING

As we had said earlier, iPower offers other hosting solutions like WordPress hosting, VPS, and dedicated servers.  Their packages include a hand picked selection of the most popular WordPress themes, as well as pre-installed add-ons, a custom control panel, servers and security features specifically optimized for WordPress, and of course free domain registration.
IPOWER also has a fairly standard range of shared hosting packages. If you want to run an e-commerce site, their Pro plan will be of particular interest to you: this includes free domain registration, up to 15 products with ShopSite      Shopping Cart software, a website builder, support for scripting languages, and even free marketing guides.
WORDPRESS HOSTING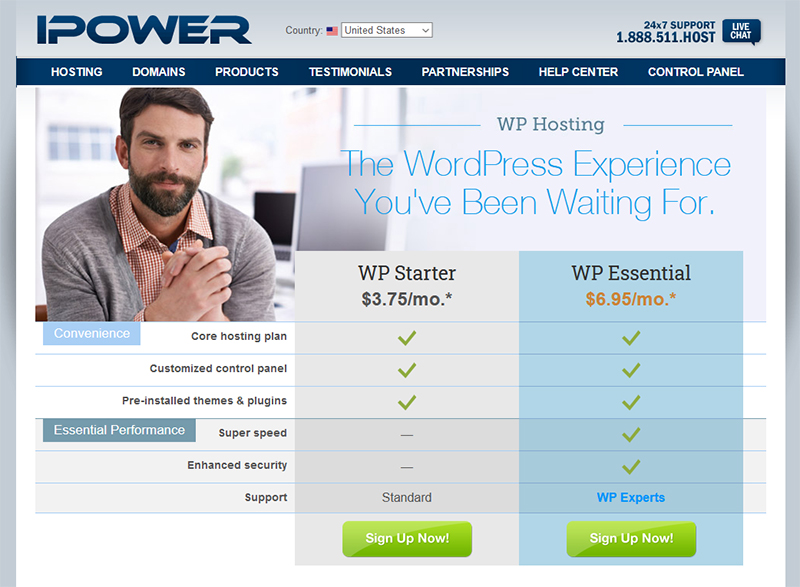 VPS HOSTING
DEDICATED SERVER HOSTING
THE VERDICT
iPower hosting ticks so many boxes when it comes to web hosting. Talk of excellent hosting with such features as fast loading speed, high uptime guarantee, top-notch security and domain privacy, easy dashboard, and responsive tech support, all for a cheap rate.
We feel that iPower is a smart option for everyone.