Are you looking to get your website hosted at FatCow? Well, our FatCow hosting review will help you decide whether it is a good option or not.
But before that, what do you look for in a web hosting service? Most opt for cheap hosting while overlooking critical aspects like uptime, loading speeds, security, and everything else that defines quality web hosting.
This is not to mean that cheap is not good. As you will realize, some hosting services offer feature-packed packages at very affordable prices. One such company is FatCow.
We are going to dive deep into what FatCow is all about – its hosting plans, pricing, features, and its pros and cons.
FATCOW HOSTING OVERVIEW
There is no doubt that you are wondering why a company would call itself a whimsical name like FatCow. On a light note, FatCow offers amusement as part of their hosting. Just visit their site (https://www.fatcow.com/) and catch a glimpse of the cartoonish, fat cows they display thereon – for comic relief and nothing else.
Just a bit of FatCow's background: The Company was founded in 1998 to offer easy and affordable website hosting solutions to individuals, businesses, and anything in between.
Many things make FatCow stand out from the rest. For example, their cheapest hosting plan – the Mini Moo- comes with a free domain and email accounts, all for $5 for the first year. Then there is the Original FatCow plan that costs $49 per year. This offering comes with plenty of resources and tools you need to create a classic website.
No matter the option you opt for, FatCow remains a cheap option when compared to its competitors.
Secondly, FatCow boasts responsive, friendly customer support. Additionally, the company offers free site transfers for customers with websites hosted elsewhere.
As you can see, FatCow is all about offering you feature-packed hosting solutions for a few bucks. Should you change your mind within the first 30 days, FatCow's money-back guarantee will allow you to cancel your account and ask for a refund of your money.
GENERAL INFORMATION
SPEED:
948 ms (January 2020 to November 2020 average)
UPTIME:
99.92% (January 2020 to November 2020 average)
SUPPORT:
24/7 live chat, knowledge base, ticketing
APPS:
WordPress, Anchor, Joomla, b2evolution, Backdrop, Concrete, Croogo, Drupal, XOOPS, Textpattern, PyroCMS, MODx, PHP-Nuke, seotoaster, and ocPortal, PrestaShop, photo galleries, mailing lists, guestbooks, live chats apps, etc.
FEATURES:
Unlimited email accounts
Bandwidth allowance
CMS support
Databases
Control panel
File manager
Security tools
SSL certificates
Money-back guarantee
FTP access
Domain name
24/7 customer support
PLANS:
VPS hosting
Dedicated server hosting
Shared hosting
WordPress hosting
SITE TRANSFER:
Free website transfers
PRICING:
$5 per year
THE PROS AND CONS OF FATCOW HOSTING
1. Excellent uptime
As you will realize, FatCow doesn't include an uptime guarantee anywhere in their plans, or they are yet to publish such details. But this doesn't mean we cannot get hold of the statistics.
Most users have reported 99.92% on average, though the score can hit the 100% mark at times. While there doesn't exist a perfect hosting provider, we feel that these are better results as compared to what most of its competitors offer.
2. Simple, straightforward dashboard
FatCow gives users access to a dashboard from where they can manage their servers, billing information, and add-ons. Also, the dashboard has software panels with the latest analytics.
And, the custom cPanel dashboard offers a whole range of app installers that help users to set up common apps and CMSs like WordPress and Joomla, among others.
Even if you beginner, FatCow's system is pretty simple and straightforward.
3. Daily auto-backups
We also like FatCow's daily site backups.
As you already know, most web hosts don't offer regular backups, so it's another plus with FatCow hosting.
After signing up with the service, you can rest assured that your site and data will be protected, and you won't lose anything even in the worst-case scenario.
4. Excellent customer support
It is easier to contact FatCow's customer support. Their live chat feature is usually active throughout the day so you should use this approach if you are looking to get help promptly. Or you can open a ticket, though it will take a few minutes or hours.
If those two methods are not your cup of tea, you can still utilize the knowledge base. In fact, you will never have to contact their tech support because of the extensive information you will find there.
5. FatCow is eco-friendly
You will not see this on their website or ads, but all operations at FatCow are fully powered by green energy. FatCow is the most environmentally friendly hosting service.
6. Web analytics
It would be unfair to finish this list without mentioning that all hosting plans from FatCow offer web analytics to help you know how your site is fairing in search engines and SEO. This way, you get a rough idea of what needs to be done better if you want to boost your site's traffic.
The Cons Of Using FatCow Hosting
Doesn't offer CDN
Lacks dedicated IPs
HOSTING PLANS
FATCOW VPS HOSTING
Basic. This plan costs $19.99 a month. 1 core processor, 1GB RAM, 40GB storage, and 1TB bandwidth limit are some of the features in this plan.
Business. For $47.99 per month, you get 2 cores, 4GB RAM, 90GB storage, and a 3TB bandwidth limit.
Optimum. This plan costs $79.99 per month. It offers 4 cores, 8GB RAM, 120GB storage, and a 4TB bandwidth limit.
SHARED HOSTING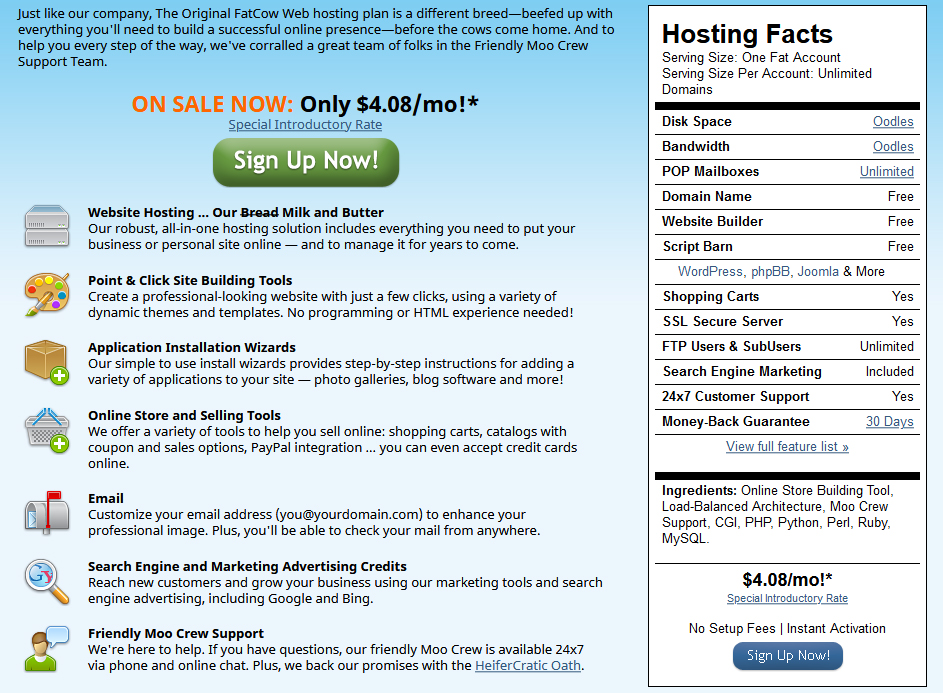 FatCow offers only one plan under this category – the Original FatCow plan. The plan costs $4.08 a month, which is a very affordable rate, especially for beginners.
DEDICATED HOSTING
Startup. For $119.99 per month, you get 2 cores, 4GB RAM, 500GB storage, and a 5TB bandwidth limit.
Professional. This one costs $151.99 a month and it offers 4 cores, 8GB RAM, 1TB storage, and 10TB bandwidth.
Enterprise. The Enterprise plan costs $191.99 per month. It comes with 4 cores, 16GB RAM, 1TB storage, and a 15TB bandwidth limit.
WORDPRESS HOSTING
This category consists of two plans:
WP Starter. Costs $3.75 per month. It offers pre-installed themes and plugins, custom cPanel, and a core processor.
WP Essential. For $6.95 per month, this plan will give you WP Experts, advanced security tools, excellent speed, themes and plugins, custom cPanel, and a core processor.
IN CONCLUSION
We feel that FatCow hosting is a smart option for both beginners and pros, considering their honest, affordable short-term pricing for their feature-rich hosting plans.
FatCow is all about offering you feature-packed hosting solutions for a few bucks. Should you change your mind within the first 30 days, FatCow's money-back guarantee will allow you to cancel your account and ask for a refund of your money. Generally, FatCow is worthy of your time and consideration.