Are you looking to build your brand online? GoDaddy Hosting will help you with that. For a few bucks, you get a custom online address of your choice. Something like .com, .site, .co.Uk, .org, and the latest domain extensions like .live, .online, and many more, the choice is yours!
And, you also take things a notch higher by using a professional email address like info@example.com or such. What a better way to show your readers, customers, and everyone that you are a serious entity than by using a personalized domain address and email addresses?
On top of fast and secure hosting, GoDaddy guarantees its users 99.9% uptime and responsive 24/7 customer support.
WHAT MAKES GODADDY HOSTING DIFFERENT?
GoDaddy was founded by Bob Parsons in Baltimore in 1997. Since then, the company has steadily grown to become one of the most popular web hosting providers and domain name registrar in the world.
Currently, GoDaddy is the power that runs over 40 million domains for single individuals, businesses, organizations, and other entities across the globe.
Besides web hosting and domain registration, GoDaddy offers internet marketing, domain security tools, and email web hosting, among other services.
GoDaddy is well known for its fun and edgy advertising campaigns and its dedication to nurturing sporting talent.
Another thing that sets GoDaddy apart from the rest is its competitive prices for feature-rich hosting plans. As a matter of fact, it is almost difficult to beat GoDaddy when it comes to hosting and pricing.
GENERAL INFORMATION
SPEED:
508 ms (October 2019 to October 2020 average)
UPTIME:
99.96% (October 2019 to October 2020 average )
SUPPORT:
24/7 Live Chat, WhatsApp, and phone
APPS:
WordPress, Drupal, Joomla, and over 150 other applications
FEATURES:
Unlimited Bandwidth
100GB Storage
Free domain name, Office 365, and email for the first year
PLANS:
Shared
VPS Hosting
Reseller Hosting
WordPress Hosting
Dedicated Servers
SITE TRANSFER:
$99.99 for every site transfer
PRICING:
The cheapest plan costs $1 per month and renews at $8.99 per month
That is just the tip of the iceberg. In the list of pros and cons below, we will take a closer look at features and everything else that GoDaddy offers.
THE PROS OF GODADDY HOSTING
For most people looking for a reliable hosting provider, the first name that comes to their minds is GoDaddy Hosting. But, what exactly makes the web host a smart option for everyone?
1. Affordable prices
Gone are the days when people used to choose web hosts based on how expensive their hosting plans are. You see, not every expensive hosting plan comes with excellent features.
As we had said earlier, GoDaddy currently hosts 40 million+ domains. GoDaddy's huge client base is interested in inexpensive, feature-rich hosting.
Would you believe that GoDaddy offers the most basic plan for as little as $1 per month?
Besides the affordable rates, the company also offers irresistible discounts for most plans. If you already own a website, you can still purchase a GoDaddy domain name for only $0.99.
2. Easy and quick app installs
GoDaddy makes the journey for beginners easier by providing one-click app installations. This feature also ensures that a user gets online within no time at all.
Whether you want to install WordPress, Drupal, e-commerce carts, and such apps, GoDaddy's auto-installer will help get started with something, completely on your own.
3. Easy and intuitive user interface – simplified cPanel
Navigating GoDaddy's cPanel is quite easy. It also comes with incredibly helpful tools like social media manager, SEO tools, and many more.
You will also love their AI wizard –the GoDaddy Insight. This tool offers analytics-driven advice to help users make the most out of their online presence.
4. 300+ Appealing templates and themes
Just like other best hosting providers, GoDaddy features a website builder with plenty of builder plans, templates, and themes. What a user only needs to do is to pick their favorite template and theme before creating their website from scratch.
5. Expert 24/7 customer support
Yet another benefit of signing up with GoDaddy hosting company is that their friendly (and fun!) customer support will always be there for you. In case you get stuck somewhere, feel free to send a ticket via their live chat, WhatsApp, or phone line.
6. Top-notch security
Just a reminder: Besides web hosting, GoDaddy offers domain security tools like SSL and more. You now understand why the web host does security well, right?
GoDaddy utilizes high-grade technologies to guard its users against spam, viruses, and malicious attacks. That is a pretty good idea.
7. Reliable uptime
Uptime is the most important factor to consider when choosing the best hosting for your website. That said, it is only useful to opt for a web host with an uptime guarantee of 99% and above. One such hosting company is GoDaddy.
They don't offer the best uptime in the industry but at least theirs is reliable.
THE CONS OF GODADDY HOSTING
1. Cheapest plans lack some essential features
Most of the web hosts we have reviewed offer SSL security, site migrations, regular backups, and such critical features even in the most basic plans. This is not the case with GoDaddy.
2. High renewal rates
GoDaddy doubles or triples the signup prices for most plans. For example, the Economy plan costs $1 per month but renews at $8.99 per month.
3. There could be some issues with WordPress: random errors, no catching allowed
Most of the web hosts we have reviewed offer SSL security, site migrations, regular backups, and such critical features even in the most basic plans. This is not the case with GoDaddy.
HOSTING PLANS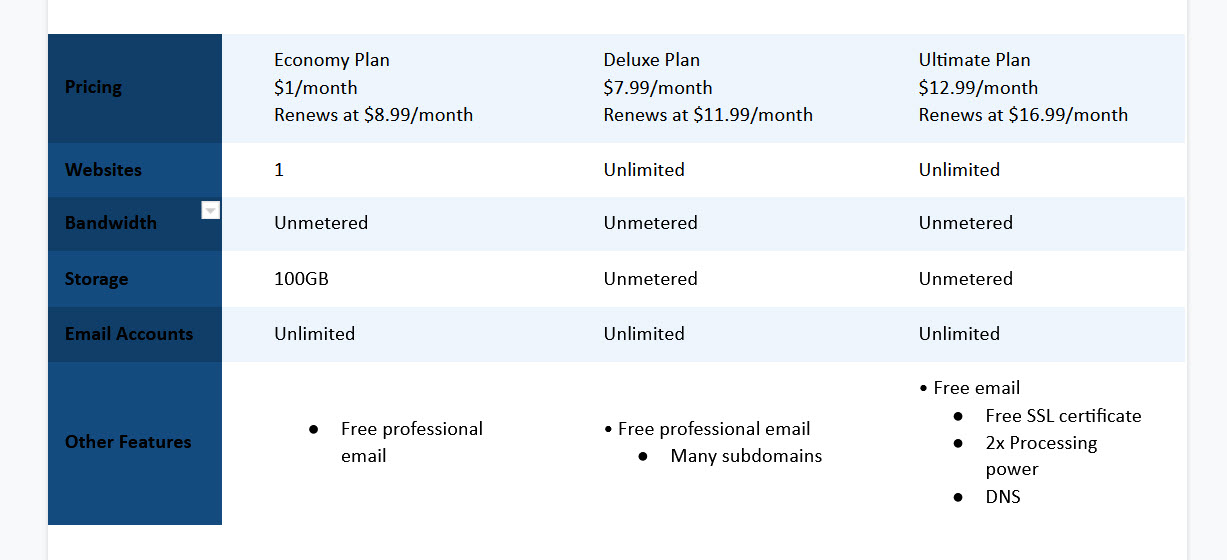 RESELLER HOSTING PLANS
WORDPRESS HOSTING PLANS
VPS HOSTING PLANS
DEDICATED SERVERS
FEATURES ON ALL PLANS
Easy Sign up process
3-day money-back guarantee
Credit cards and PayPal payments
cPanel
1-click app installs
THE VERDICT
Should you go with GoDaddy?
The answer depends on two factors, namely, your budget and your intention to use WordPress or not.  GoDaddy budget hosting is good for users who plan to have a small website. Then, you are good to go with GoDaddy.
However, if you intend to use CMS such as WordPress, GoDaddy may have lots of restrictions for you. You may end up spending time troubleshooting in their cPanel. Therefore, if you plan to host a WordPress website, you should either go with their Managed WordPress or go to another web host.