For beginners and most people, choosing the right hosting for your website is akin to looking for a Mr.Right. Then, every web host out there claims to offer the best services – this further compounds the matter. Hostmonster Hosting will make it much easier for you to take the right decision.
However, picking a reliable hosting service that you can trust with your heart isn't as difficult as you think. You just need to take critical aspects like uptime, speed, customer support, storage, bandwidth, and all that into consideration.
Thankfully, HostMonster will offer you all that for a few bucks. Yes, they are not perfect but they are worth trying. But before making up your mind, you may need to take a look at all the facts and details about HostMonster. Read on.
HOSTMONSTER HOSTING OVERVIEW
HostMonster was founded by Matt Heaton in the Western US in 1996. The company went ahead to acquire over 80 web hosting brands, making it one of the largest web hosting providers in the world.
The web has carved out a niche for itself in the web hosting industry. Currently, HostMonster offers top-notch hosting solutions for single individuals and businesses as well.
Shared hosting, VPS hosting, and dedicated server hosting are the major hosting packages offered by HostMonster.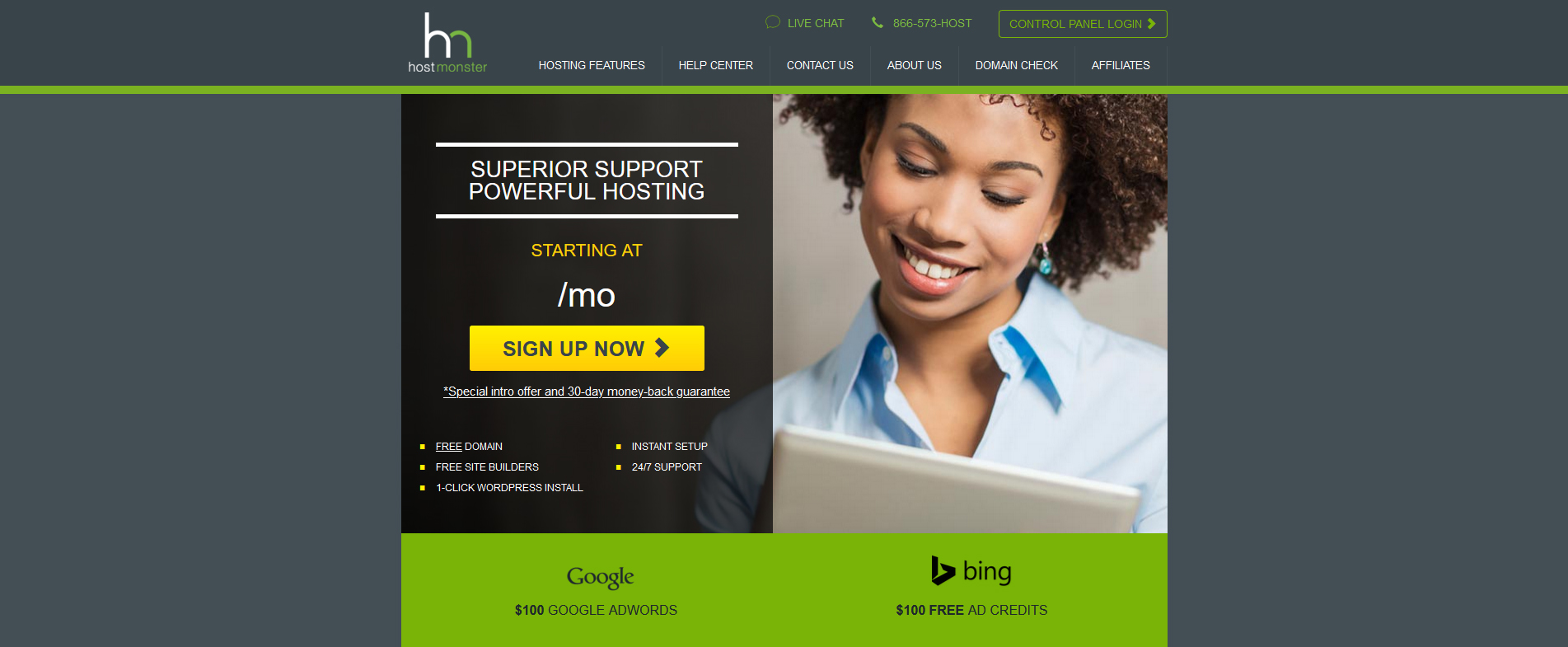 Is HostMonster any good?
GENERAL INFORMATION
SPEED:
900 ms (October 2019 – October 2020 average )
UPTIME:
99.98% (October 2019 to October 2020 average)
SUPPORT:
24/7 live chat, email, and phone
APPS:
WordPress, Joomla, and CMSs
FEATURES:
Unlimited storage space
Unlimited domain hosting
Add-on domains
Free domain name and subdomains
Free site builder
FTP access
Email auto-responder
3 webmail
Site analytics
Databases
Website scripts
E-commerce tools
Multimedia features
24/7 server monitoring
PLANS:
Shared
VPS hosting
Dedicated server hosting
SITE TRANSFER:
Up to 5 websites
PRICING:
The cheapest hosting plan costs $4.95 per month
THE PROS AND CONS OF HOSTMONSTER HOSTING
Out there, you will find a lot of reviews about HostMonster hosting. Most of those reviews are usually based on personal experiences and of course, anecdotes. However, there exists no "perfect" or "best" web hosting provider.
You will agree that what is best for you doesn't necessarily have to be another person's best, right? It all depends on your needs, goals, budget, expertise, and all that. Take a look at the pluses of HostMonster hosting below.
1. Superb uptime
Uptime is what determines how long your site is accessible online. Frequent downtimes may cause huge losses for your business. Fortunately, HostMonster boasts above-average uptime of 99.98%.
This means that the longest your site can be down is 8 hours per year.
2. Free domain for one year
We all know that most web hosts offer this feature already, but it is still a nice addition to HostMonster's feature-packed hosting plans.
3. Quick app installs
As we had said earlier, HostMonster features a fast and easy app installer. Any user can use the MOJO Marketplace to get plenty of apps, plugins, appealing themes, and scripts for use on your website.
Installing your favorite CMSs and other apps will only require a click of the mouse.
4. Advanced security features
Security is among the most important factors to keep in mind when shopping around for a reliable web hosting provider.
Hackers are always looking for loopholes through which they can infiltrate sites and commit cybercrimes. On the other hand, top-grade security can keep attackers at bay.
HostMonster hosting comes with unmatched security options including SSH access, SSL certificates, Hotlink Protection, and anti-spam tools. Additionally, the web host conducts regular site backups.
5. Easy site-building
Yet another benefit of HostMonster hosting is that you don't need to know coding to build a site with them.
You can take advantage of their pre-built templates or use the drag-and-drop feature to create your website from scratch.
Their templates and themes are intuitive, so you can rest assured your site will look professional.
6. User-friendly dashboard and cPanel
HostMonster's user interface was made with beginners in mind. That is why it has easy-to-use navigation elements. You can also opt for the cPanel if you are a bit experienced in these matters.
7. Free domain migrations
HostMonster can help you move up to five domains and up to 20 email accounts from your host to their platform.
8. Responsive customer support
Users can raise their concerns and questions with HostMonster through email, phone, or the 24/7 live chat.
You will appreciate the company's support team because the guys there are informed and knowledgeable. As such, you shouldn't expect generic answers from them.
Now, let us explore the negative side of HostMonster.
Cons Of Using HostMonster Hosting
1. Some hidden costs
Unfortunately, there are a few costs that will come up along the journey.
First of all, the "cheap" only apply to new accounts. When renewing your subscription, you will be shocked to see a huge, inflated figure.
2. Doesn't offer Windows-based hosting
HostMonster is laser-focused on Linux hosting, which means that it is not a suitable option for those who are looking for Windows hosting.
HOSTING PLANS AND PRICING
Here's HostMonster's shared hosting at a glance.
VPS HOSTING
DEDICATED SERVER HOSTING
ADDONS FOR SHARED WEBSITE HOSTING
Premium SSL: pricing starts at $80.04/ year
Dedicated IP address: Costs $5.99 a month
SpamExperts email filter: $2.99 per month per every domain
Reactivation of expired hosting accounts: $30
THE VERDICT
As you can see, HostMonster Hosting is all about helping business increase their online presence through affordable hosting. Talk of one-click app installations, excellent uptime guarantee, professional email accounts, free domain names, knowledgeable customer support, and more.
Also, the company has a 30-day money-back guarantee that allows users to seek a refund of their money after canceling their subscription within the first 30 days.